Building Bridges: Being in Nature
Two days, two events free and open to everyone!
Everyone's Earth: Voices of National Leadership in Anti-Racism in the Outdoors
Join us for a VIRTUAL webinar/conversation with those leading the nation's effort to address racism and the outdoors. Together, we will explore ways we can increase diversity and equity as it relates to outdoor accessibility and engagement. Leaders will also showcase a recently developed Anti-Racism in the Outdoors Resource Guide.
September 30, 2021
12:30PM-2:00PM EST
Goals of the event:
Raising awareness of the importance of anti-racism in the outdoors, including the Anti-Racism in the Outdoors guide
Challenging concepts and ideas that marginalize people in nature and the outdoors
Elevating the voice of national organizations and leaders working on this topic.
SPEAKERS INCLUDE:
James Edward Mills (moderator) -Community Partnership Liaison, Nelson Institute for Environmental Studies; Founder, The Joy Trip Project
Christopher Kilgour- Founder, Color in The Outdoors
Claudia Pineda Tibbs (they/them) – Advisory Board, Latino Outdoors; Sustainability Manager, Monterey Bay Aquarium
Corina Newsome- Community Engagement Manager, Georgia Audubon Society
This event is presented in partnership with the University of Connecticut College of Agriculture, Health and Nature Resources – Department of Extension and Nature Rx, the Cornell School of Integrative Plant Science, and The Joy Trip Project with support from the Schlecht Family Foundation, and the Nelson Institute for Environmental Studies, UW-Madison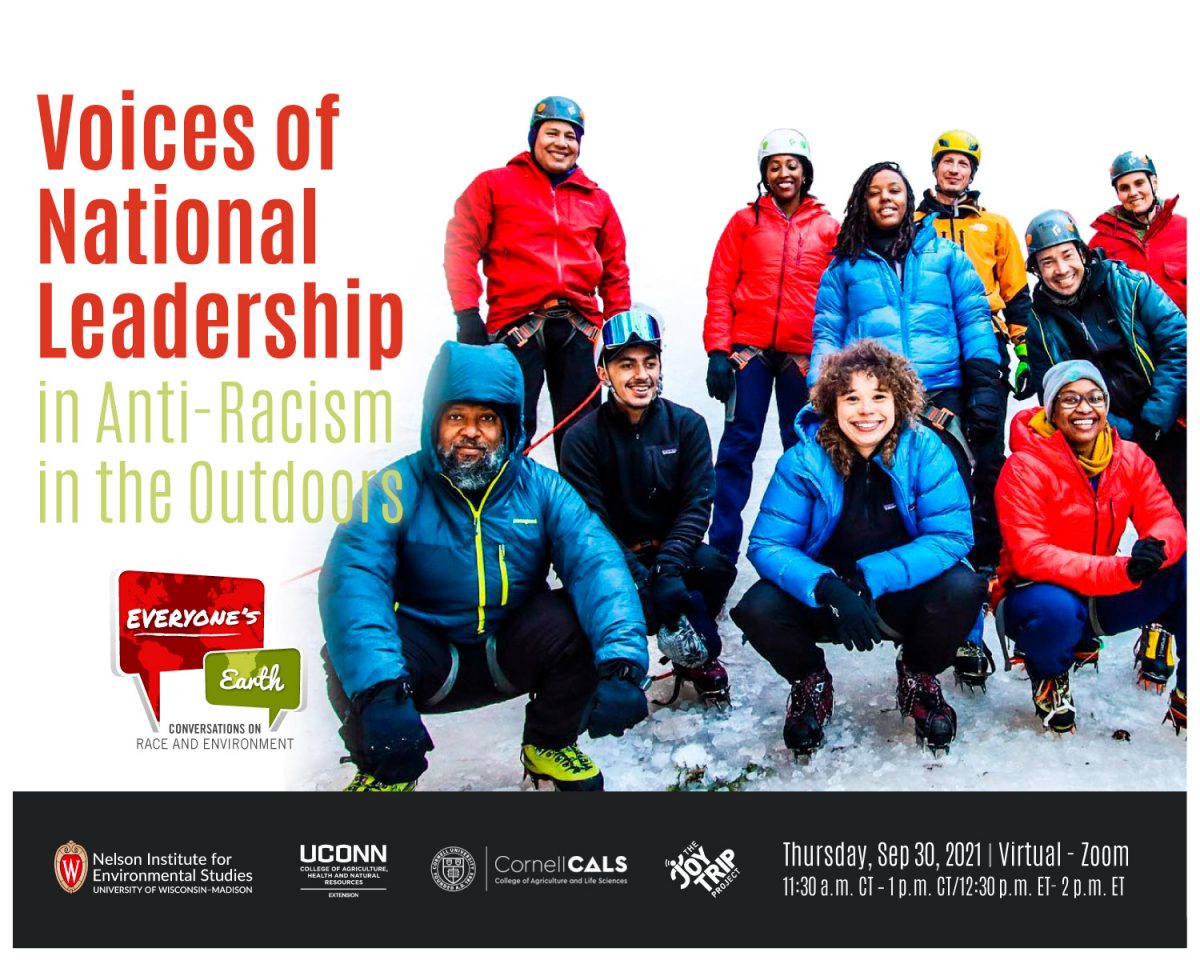 NatureRx at UConn: Connecting with nature for better well-being and mental health
Join us for an IN PERSON mini-symposium bringing together UConn researchers, educators, mental health providers for students, outdoor and environmental program experts and anyone interested in seeking to understand the benefits of being in nature and in developing resources and creating programs to foster student engagement with nature for better mental health and well-being.
Friday October 1, 2021
BUSN 211, UConn Storrs Campus
10:00 AM – 12:00 PM + a working lunch provided by our sponsors
Goals of the event:
Introducing to NatureRx to the UConn community
Building synergism for UConn community members interested in research, education and outreach topics related to the benefits of spending time in and with nature.
SPEAKERS INCLUDE:
Keynote speaker: Dr. Don Rakow, Cornell University, author of NatureRx: Improving College-Student Mental Health
UConn participants:
Dr. Sohyun Park – Landscape Architecture
"Making everyday landscapes special"
Dr. Kerry Marsh – Psychological Sciences, Social Psychology:
"Affordances of natural versus built environments"
Drs. César Abadia and Maria LaRusso – Anthropology:
"Critical consciousness, self-care, and activism for adolescent well-being"
Dr. Phoebe Godfrey – Sociology
"Countering the objectification of self, others and the earth"
Dr. Laura Cisneros –UConn Extension: UConn Natural Resources Conservation Academy
"Facilitating Teen-Adult Community Conservation Efforts"
Dr. Laura Brown – UConn Extension Educator: Community and Economic Development, CT Trails and PATHS
"Trails and active living programs"
This event is presented in partnership with NatureRx at Uconn, the College of Agriculture, Health and Nature Resources – Department of Extension, the Department of Ecology and Evolutionary Biology.